Syncopation- sarja
Symbaalisarja, jonka runsas taonta tarjoaa rikkaat ylätaajuudet ja voimakkaan päällekäyvän soinnin.
Linjasto on saatavana kahdella eri pintakäsittelyllä: "Regular Lathed" on perinteiseen tyyliin sorvattu ja "SW" on hiekkapesumenetelmällä käsitelty versio. Kumpikin variaatio on runsaalla taonnalla toteutettu, joka antaa symbaaleille voimakkaan päällekäyvän ja monitahoisilla ylätaajuuksilla varustetun soinnin. Perinteisesti sorvattu versio antaa pidemmän soinnin, kun taas "SW" malli tarjoaa kapulasoinnin selkeämmin keskittyneen erottelevuuden.
Syncopation series
Excessively hammered cymbals which generates aggressive sound with complex overtones.
The line is available with two different finishes as "Regular Lathed" and "SW" which stands for Sand Wash finish. Both variants are excessively hammered which generates aggressive sound with complex overtones. Lathed finish offers more sustain while SW version projects more focused stick definition.

Tämä sarja on uusi virallistettu versio maineikkaasta Special3 sarjasta, joka Janne M. Salon oman kehittelyn ja ohjeistuksen mukaan toteuttettiin kymmenisen vuotta sitten. Meillä sarjaa on ollut saatavissa siitä lähtien parin erikoisuuden kera, kuten China ja China Ride.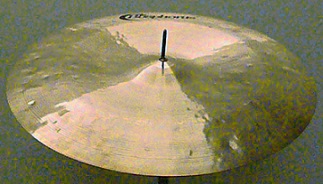 Special3
Listahinta / varastotarjous
24″
Special3
3150g (thin)
474e / 380e
mp3
24″
Special3
3096g (thin)
474e
mp3
24″
Special3 SW
3255g
474e
pidossa
24″
Special3 SW
2440g (ultra thin)
mp3
22″
Special3
2855g
442e
mp3
pidossa
22″
Special3
2465g (thin)
442e
mp3
22″
New Prototype
2435g
442e
PIDOSSA
22″
New Prototype
2423g
442e
mp3
22″
Special3
2365g
442e
mp3
pidossa
22″
Prototype
2360g
442e
mp3
22″
Syncopation
2240g
442e
mp3
pidossa
22″
Syncopation
2216g
442e
mp3
22″
Special3 SW
2550g
PIDOSSA
22″
Special3 SW
2440g
442e
mp3
22″
Special3 SW
2416g
442e
pidossa
22″
Special3 SW
2320g
442e

mp3
PIDOSSA
22″
Special3 SW
2250g (paper thin)
442e
mp3
22″
Special3 SW
2188g (6 niitin reikä) käytetty!
mp3
22″
Syncopation
SW
2135g
442e
mp3
pidossa
21″
Special3
2280g
426e

mp3
pidossa
21″
New
1998g
21″
Special3
1978g (paper thin)
416e

mp3
pidossa
21″
Special3 SW
2100g
416e
pidossa
20″
Special3
2368g
378e
mp3
20″
Special3
1940g
378e
mp3
20″
Special3
1916g
378e
mp3
20″
New Prototype
1730g
378e
mp3
20″
Syncopation
SW
2036g
378e
mp3
20″
Syncopation
SW
1824g
378e
mp3
20″
Syncopation
SW
1752g
378e
mp3
pidossa
19″
Special3
1526g (thin)
336e
mp3
18″
Special3
1416g
mp3
18″
Special3
1420g (medium thin)
298e / 2??
mp3 mp3
18″
Special3
1356g (thin)
298e / 2??e
mp3
18″
Special3
1326g
298e / 2??e
mp3
18″
Special3
1270g (paper thin)
298e / 2??e
mp3
PIDOSSA
18″
Special3 SW
1438g
PIDOSSA
18″
Special3 SW
1348g
298e
mp3
18″
Special3 SW
1314g (thin)
298e / 2??e
PIDOSSA
17″
Special3
1187g (new proto) (medium thin)
210e
mp3
17″
Special3
1000g (paper thin)
238e
mp3
17″
Special3
993g (paper thin)
238e
mp3
16″
Special3
938g (thin)
210e
mp3
Flat Ride
20″
Special3
1750g
280e
mp3
20″
Special3 SW
1868g
280e
mp3
Hihat
16″
Syncopation SW
1030g / 1276g
473e
mp3
16″
Syncopation
1026g / 1370g
473e
mp3
16″
Syncopation
1025g / 1276g
473e
mp3
16″
Special3/Control
912g / 1408g
380e
mp3
15″
Special3 SW
1020g / 1300g (thin)
346e
mp3
PIDOSSA
15″
Special3 SW
950g /1270g
346e
mp3
pidossa
15″
Special3
950g / 1130g (paper thin)
378e
mp3
15″
Special3
838g / 930g
378e
mp3
15″
Special3
785g / 1000g
378e
mp3
15″
Special3
760g / 910g
378e
14″
Special3
950g / 1160g
325e
mp3
VARATTU
14″
Special3
904g / 1210g (thin)
325e
mp3
pidossa
14″
Special3
784g / 956g (sekapari)
300e
mp3
14″
Special3
732g / 1000g (sekapari)
300e
mp3
14″
Special3 SW Prot.
880g / 1080g
300e
mp3
pidossa
14″
Special3 SW
864g / 1100g
325e
14″
Special3 SW
764g / 1076g
325e
mp3
China Ride
20″
Special3
1826g China Ride
jmp3 cmp3
PIDOSSA
China
20″
Special3
1760g China
mp3
PIDOSSA
18″
Special3
1240g China
300e
mp3