New Orleans- sarja
Keskittyneet ridet ja nopeat crashit.
Sarja tavoittaa historiallisen New Orleansin autenttisen raa'an soinnin. Symbaalit ovat käsin taottuja sekä viimeisteltyjä kummaltakin puolelta yhtenäisellä sorvauksella keskeltä reunaan asti. Tämä voimakas sorvaustekniikka tuottaa keskittyneen ride- kapulasoinnin sekä nopean ja kuivan crash- soinnin.

New Orleans series
Focused rides & quick crashes.
Captures the pure raw sound of historic New Orleans. Hand hammered and completed, top and bottom, with a continuous spiral from center to edge. This pronounced wide lathing technique results in a cymbal that produces focused woody ride sounds and quick, dry crashes.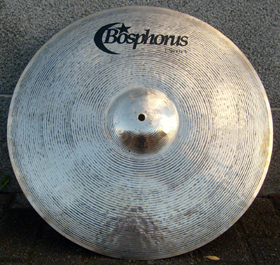 New Orleans
Varastohinta:
sis. ALV:n 24%
28″
New Orleans
SAA TILAUKSESTA!
26″
New Orleans
SAA TILAUKSESTA!
24″
New Orleans
SAA TILAUKSESTA!
383e +mahd. tilauskulut
24″
New Orleans
Ride (thin) 2970g
383e
mp3
24″
"
Ride (paperthin) 2696g
383e
mp3
22″
"
Ride (thin) 2520g
356e
mp3
22″
"
Ride (paperthin) 2326g
356e
mp3 mp3
varattu
21″
"
Ride (paperthin) 2115g
327e
mp3
20″
"
Ride (thin) 1950g
296e
mp3
20″
"
Ride (thin) 1920g
296e
mp3 mp3
19″
"
Ride (Crash/Ride) 1586g
263e
mp3
varattu
18″
New Orleans
Crash (thin) 1348g
238e
mp3esim
17″
"
Crash 1172g
218e
mp3
16″
"
Crash 1069g
197e
mp3
12″
"
Splash hole  348g
—
mp3
11″
"
Splash  327g
—
mp3
10″
"
Splash  262g
—
mp3
10″
"
Splash  258g
—
mp3
New Orleans
Hihat
15″
"
Hihat 1180g / 1330g
346e
mp3
15″
"
Hihat 900g / 1180g
(itse matsattu)
mp3
14″
"
Hihat 935g / 1148g

319e
mp3
varattu